How to Pack Fragile Items When Moving?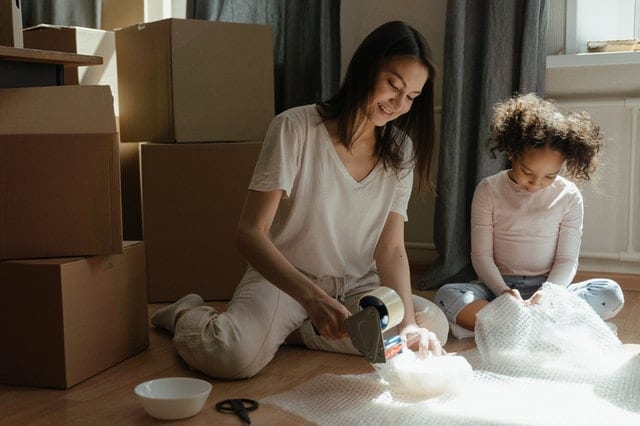 You will encounter many different tasks during a move. One of the assignments that may appear as a problem, especially if you do not have too much experience, is protecting your fragile items. Glasses, plates, mirrors, even TV screens all require special handling. One way to solve this problem is to hire a full-service moving company to help you with packing. Professional packers have all the necessary skills and materials to provide your items with appropriate protection. Besides, this option will save a lot of your time and energy. On the other hand, you can try to do it on your own as well. In that case, take a look at how to properly pack fragile items when moving.
First, you need to determine how many items you have to pack
Naturally, you cannot start packing fragile items if you didn't prepare the necessary materials. However, first, you need to determine how many things you have, their dimensions, shapes, and maybe even weights. Take a good look around your home and try to list every fragile item that needs special attention during a move. That is the only way to figure out how many boxes, wraps, and rolls of tape you will need to acquire.
Materials to prepare when you need to pack fragile items
When it comes to packing materials, there are so many different options that you can choose from. It all depends on whether you want to invest your effort or your money. Nevertheless, here are the things that you should prepare:
Cardboard Boxes
Corrugated cardboard sheets
Bubble wrap
Newspaper or packing paper
Packing peanuts
Packing Tape
Label Markers
Towels or rags
When it comes to cardboard boxes, you can decide to buy specialized boxes that are a little more expensive but will save you a lot of time and protect your items adequately. You can find special boxes for dishes, plates, stemmed glasses, mirrors, lamps, even light bulbs. However, it is not always easy to find such boxes, so you might have to rely on standard ones to pack fragile items when moving.
A final reminder before you begin
Moving is a complicated process with many obstacles, but with so many Americans relocating each year, it's obvious that the reasons why people opt for this step are many. Nevertheless, there are two ways to do this – hire professionals or do it on your own. Even though hiring professionals is more efficient, a DIY option is slightly cheaper but requires much more effort. If you are going with the second option, remember that there is no rushing when handling easily breakable items. You will have to do this slowly, so it may take a significant amount of time to finish.
Consider this when you start planning your actions and make sure that you leave yourself with enough time to do this properly. If you think that you will not manage to pack your fragile items on time, consider going with the first option.
Packing glasses for the move
Glasses are one of the trickiest things to pack for transport. They are usually made from the thinnest glass where the slightest force can damage them. If you can, get a dish pack that is divided into individual cells. Place some soft materials like bubble wrap or some soft cloth on the bottom of the box. Wrap each piece individually into bubble wrap and secure it with packing tape.
Place your glasses into the box and fill the empty spaces with crumpled newspapers or packing paper while ensuring that the glasses cannot bump into each other. Another goal is to prevent your glasses from moving while inside the box. Finally, secure the box with packing paper, adding slightly more tape at the bottom of the box.
Handling plates
Packing plates is much more straightforward. You can get a plate box that is divided into sections and even has paper bags for each piece. Insert your plates into bags and put them into the box. Again, fill the empty space with packing paper, packing peanuts, or bubble wrap and secure the box with packing tape. If you are using a standard box, fill the bottom with padding material, wrap each plate with bubble plastic, and stack them on top of each other while inserting a cardboard sheet between every piece.
How to pack a mirror
If you are packing a mirror, especially a large one, we suggest you get a specialized mirror box that will give your items perfect protection. Still, regardless of whether you are getting a custom box or not, your mirror needs to be well wrapped. Use cardboard sheets and tape them across the surface on both sides. Next, wrap the mirror with several layers of bubble plastic. If you are going without a box, add a few layers more. Otherwise, make sure that the mirror will fit inside, so do not overdo it.
Handle the TV the same way you did with your mirror
Flat TV screens are also considered fragile items. In this case, the best solution is to use the original packaging if you have it. If not, you can also find specialized boxes for mirrors or TV screens. Nevertheless, the packing technique will be the same as when you packed your mirror. Wrap your TV into cardboard sheets and bubble wrap, secure everything with packing tape and place it inside the box. Just make sure that it cannot move while inside by filling the gaps with rolls of bubble wrap.
How to protect a lamp and light bulbs
When you are relocating a lamp, how you will approach it depends on its shape and size. If you are dealing with a standard floor lamp, you can probably find a box intended for packing lamps when moving. The critical part here is to get the box of an appropriate size. This means that it should only be slightly larger than the lamp. Of course, before you place it inside, remove the light bulb and wrap every fragile part with bubble wrap. When it comes to your light bulbs, if you have more than a couple, you can also find boxes for replacement light bulbs that you can use to transport them safely. Just wrap every bulb into a newspaper before you close the box.
Label boxes with fragile items properly
After you finish packing your fragile items, make sure that you label the boxes. This is very important. If the person carrying the box is not aware that it is filled with fragile items, all your effort could quickly go to waste. Of course, for this as well, you can use several techniques. You can get a printed packing tape that has "fragile" warnings on it. You can use stickers, or you can simply use the marker and write directly on the box. Just make sure that the box is visibly labeled on all sides.
Your final task is to find good movers
And that is it. As you can see, when you want to pack fragile items when moving, you need to know proper techniques and have suitable packing materials. Now all you have to do is find reliable movers that will know how to handle your boxes carefully.
https://skyvanlines.com/
Sky Van Lines
Phone number: 7027513027
Address: Sky Van Lines, 4500 Andrews St unit E North Las Vegas NV 89081.
https://www.facebook.com/SkyVanLines/
https://twitter.com/sky_van_
https://www.youtube.com/channel/UC4pBzjrYMRRAxv4M0NKAwdg/featured?view_as=subscriber